Clean Ports 5.0 project aims to boost energy decarbonization in the port sector
With Artificial Intelligence as the main tool, the initiative, driven by the energy and logistics sectors, seeks to improve the logistics and efficiency of key port areas in Spain.
This research initiative is led by IGNIS, with advice from Leyton and a grant from the Center for Technological Development and Innovation (CDTI).
Eiffage Infraestructuras, FM Logistic, Trans-Base Soler, Passion Motorbike Factory, Astilleros Astander; and Aquiles Solutions are also part of the Consortium.
The renewables sector has launched Clean Ports 5.0
This project aimed at improving logistics processes and sustainability in strategic port service areas in Spain. Subsidized by the Center for Technological Development and Innovation (CDTI) and with IGNIS, an integrated renewable energy group, as coordinator, this initiative will be developed in key areas such as the Port of Barcelona, the Port of Cartagena, or the Port of Valencia, carrying out its activity until 2024.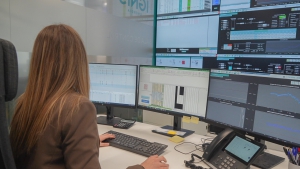 To ensure the success of this ambitious project, IGNIS is leading a consortium made up of reference companies in the logistics, Artificial Intelligence and Mobility sectors: the national benchmark in the public works sector, Eiffage Infraestructuras; the global logistics operator FM Logistic; national benchmark in empty container logistics and driver of innovation in the port sector, Trans-Base Soler; the urban mobility startup, Passion MotorBike Factory; the leading specialist in ship repair and conversion, Astilleros Astander; and the AI technology provider, Aquiles Solutions and the collaborations of two prestigious technology centers, Cartif and Tecnalia. On the other hand, it should be noted that the administrative tasks, technical drafting and financial calculations have been coordinated by the team of Leyton Iberia, a leading global consulting firm present in 13 countries and with more than 25 years of experience.
This research project will work to ensure the sustainability of port processes and their efficient mobility, the development of energy solutions for these territories, the optimization through AI of maritime containers and bulk cargo, as well as to develop new digitized and automated logistics systems for all processes developed in port service areas.
As project leader, IGNIS will investigate new processes to minimize energy consumption and contribute to the energy decarbonization of the port through the hybridization of various renewable energy sources, the production of green hydrogen and the use of different storage technologies. In this regard, Luis Manzano, Product Development Manager at IGNIS, explains: "At IGNIS we are firmly committed to building and moving towards a more efficient and sustainable energy system that generates a positive impact from an environmental and economic point of view. Therefore, we see it as essential to promote projects such as Clean Ports 5.0, where innovation and collaboration between leading companies in their sector play a key role for an agile and effective decarbonization. This combination will make it possible to develop integrated solutions for industries that contribute to improving their energy efficiency and competitiveness".
/wp-content/uploads/2023/03/IGNIS-Clean-Ports.jpg
720
1280
Exclama
/wp-content/uploads/2022/11/logo.svg
Exclama
2023-03-17 10:27:48
2023-03-17 10:27:48
Clean Ports 5.0 project aims to boost energy decarbonization in the port sector