IGNIS joins forces with Vortex Energy after reaching the milestone of over 1GW of ready to build solar portfolio.
Vortex Energy, an investment fund leader in Europe focused on renewable energies managed by EFG Hermes announced last June its investment in the Spanish group of renewable energies IGNIS, of 222 million euros of share capital to date meeting the terms of the agreement signed with IGNIS last year.
An investment which forms part of a series of capital increases made by IGNIS, financed by Vortex IV and its co-investors to support its growth as renewable energy benchmark with over 20GW of portfolio under development.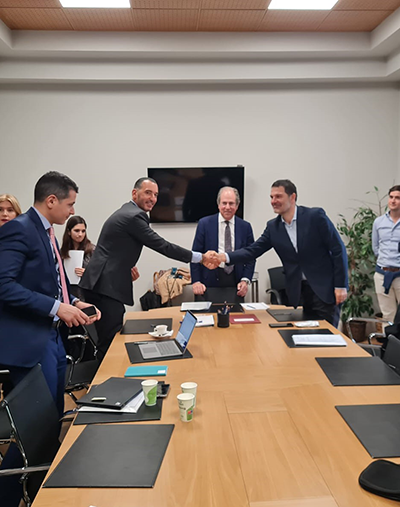 Since Vortex Energy initial investment in 4Q 2021, IGNIS has been efficiently implementing its growth strategy in Spain with over 1GW of the portfolio insured with all permits to reach the ready-to-build (RTB) status. The Company is starting preparations to soon accomplish the construction of 500 MW. Also, the company has actively negotiated over 500MW of first line and renowned prestige bilateral PPAs. Finally, IGNIS has increased its international presence adding 11GW of solar, wind and battery storage energy abroad.
This way Vortex Energy continues with its active strategy to support IGNIS growth with a contribution of approximately 46 million euros expected for 4Q 2022 and another 176 million euros for 1Q2023.
Antonio Sieira, Founder and CEO of IGNIS: "We continue achieving key milestones of our road map to turn IGNIS into an important company worldwide of renewable energies totally integrated. We are very satisfied with our alliance with Vortex Energy and we expect a brilliant future together".
Karim Moussa, CEO of Vortex Energy: "We are very satisfied with IGNIS achievements in so little time and in these difficult market times. IGNIS management capacity and the quality of its portfolio continue consolidating their market position. We are here to support this association guaranteeing the accomplishment of our strategic objective and we will continue financing our common growth track record".
Ana Peris Caminero, COO of Vortex Energy: "IGNIS executive capacity and its sound energy management as well as operational knowledge are crucial today more than ever in our sector. We commit to continue assisting IGNIS management to build its considerable IPP portfolio both in Spain and abroad".
/wp-content/uploads/2022/12/3.jpg
1013
800
Exclama
/wp-content/uploads/2023/10/cropped-logo-2023.png
Exclama
2022-06-01 10:56:35
2023-10-18 12:23:31
IGNIS joins forces with Vortex Energy after reaching the milestone of over 1GW of ready to build solar portfolio.