IGNIS incorporates researchers through the program Investigo
Human talent promotion of the renewable energy sector has always been part of IGNIS purpose.
Therefore the company continues betting on innovative and research talent thanks to the Program Investigo[1]. This plan forms part of the Plan for the Recover, Transformation and Resilience of SEPE financed by the Next Generation Funds.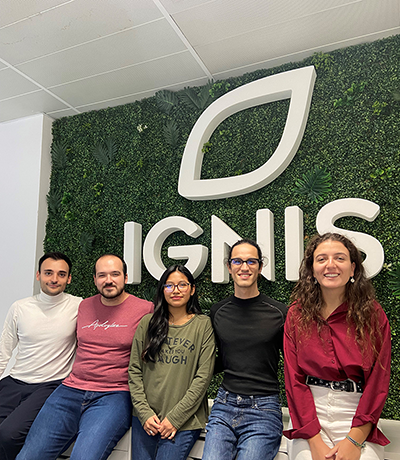 The Program Investigo is conceived to cover the contracting of young researchers in public research bodies, public universities, technological centres and other public or private entities taking part in a research project.
In this sense, IGNIS has incorporated to its staff different research profiles thanks to this program. "The human value is a key cornerstone within IGNIS. Therefore we work hand in hand with the best professionals creating a great team of 400 members. The sector is still under development and future talent is already in our team. It is a pleasure to have with us these great researchers" declared Alicia de Pablo, Talent Responsible at IGNIS.
New IGNIS researchers:
María Belén Tualombo –  Junior Data Engineer Researcher: María Belén joined IGNIS last 26 August to form part of the Data Engineer Department. She has one year of experience analysing and solving performance, code optimization and different Cloud technologies problems. She is currently finishing her studies in Telematic Engineering. She enhanced and implemented different Metasploit tasks in the global program for software development Google Summer of Code and also competed in RoboCup@Home, an international contest on robotics and IA investigation of assistance robots and household services obtaining the first position for her university. María Belén is thrilled with becoming a part of this project to contribute to the growth and consolidation of our major project and is also eager to continue learning and growing both professionally and personally.
Antonio Suárez – Junior Software Development Researcher – Antonio joined IGNIS last 26 August to form part of the Software Development Research Department. He has finished his Degree in Videogames Development and has developed programming skills in several languages, different programing paradigms such as P.O.O. or architecture by components as well as experience in the development of multiplatforms. "Having the chance to start by professional career hand in hand with a company like IGNIS is a privilege not only for being a part of great company integrated in the energy sector and with strong growth but also for contributing to this energy transition era so necessary for the future of our planet". Antonio joins us not only eager to participate in important projects with real impact on the life of people to improve them but also with the enthusiasm of continuing to develop his skills and acquiring knowledge both professional and personal.
Ana Lleonart – Junior Photovoltaic and agriculture Researcher – Ana joined IGNIS last 26 August as Junior Photovoltaic and agriculture Researcher. She has experience in R&D&i project strategic consulting, national and European projects for technological companies. She has completed her Food Engineering studies with a double Master in Agronomic Engineering and Agricultural, Food and Natural Resources Economy. She has developed research, design, drafting and project management skills. Ana has the challenge of investigating and developing proposals for plantations of cultures and livestock plans in areas where there are photovoltaic installations to allow IGNIS consolidate its expansion and adapt to an increasingly complex environment. "I am especially thrilled with my joining IGNIS team. It is a unique opportunity to take part in the first line of projects that contribute to energy transition of our economy and society. Being able to contribute with my knowledge and learn from great professionals makes me feel so proud and satisfied".
Adrián González Millán – Junior Energy Management Researcher – Adrián joined IGNIS last 26 August to form part of the Energy Management Department. He has around 5 years of experience between Spain and France in several areas: Household PV, HVAC, EERR Insurances and Hydrogen (as intern in IGNIS) and Energy Efficiency. Adrián has completed his studies in Power Engineering at Universidad Politécnica de Madrid with a Master in Energies by Montpellier University. "What I value most about IGNIS is its human approach (solidarity and the exchange of knowledge between colleagues) and its great ambition (with interesting challenges and constant innovation) without doubt an exciting experience for any engineer".
Daniel Carrasco – Junior Data Scientist Researcher– Daniel joined IGNIS last 26 August as Junior Data Scientist Researcher. He holds a degree in Mining and Energy Engineering by Universidad de Castilla – La Mancha and Master in Artificial Intelligence by Universidad Internacional de Valencia. Before joining IGNIS he took part in several investigations applying different AI techniques in mining investigations collaborating with the EU Project Aureole. What he values the most in the company is its mission and explains that his dream has always been to play an active role in the energy transition process we are now undergoing.
Miren Sánchez-Hermosilla – Junior Predictive Maintenance Researcher – Miren joined IGNIS last 26 August to form part of the innovation department. She has 1 year of experience in world of PV energy. She has worked in the quality control process of PV panels, measurement and analysis of I-V curves and in the development of programs for the analysis of PV plants data. At the same time, she has another year of experience in project management. She has completed her studies in Industrial Technical Engineering with a Master in Renewable Energies in Power Systems. This along with her experience in the Group Scout has helped her developed skills such as team work, leadership, dedication, commitment with the world around us, innovation and problem resolution. Miren joins the company as junior Predictive Maintenance Researcher. She is willing to continue learning within the field of PV and to contribute with her ideas and knowledge to carry out her duties in the best possible manner. Her motivation is to unfold in the company because her greatest wish is to grow within a company committed to energy transition and such special values.
David de León Rodríguez – Junior Software Development Researcher – David joined IGNIS last 26 August to form part of the Development area. He has 6 months of experience as part of the development team of a multiplatform app and 6 months as Data Analyst in a consultancy firm. He has completed his studies in IT Engineering choosing Computing as specialization focused on Intelligent Systems. What he values the most in a company is the human approach serving as basis for the work and the ambition and management of projects of the company and, in the case of IGNIS, the energy sector has a lot to offer.
1. https://sepe.es/HomeSepe/Personas/encontrar-trabajo/plan-recuperacion-transformacion-resiliencia/empleo-joven/programa-investigo.html
/wp-content/uploads/2022/12/2.jpg
920
800
Exclama
/wp-content/uploads/2023/10/cropped-logo-2023.png
Exclama
2022-11-08 11:07:10
2023-10-18 12:28:48
IGNIS incorporates researchers through the program Investigo